Careers
The employment rate of students graduating from the Faculty of Letters is comparable to that of other faculties, and graduates are active in general companies in a wide range of fields such as wholesale, retail, finance, insurance, telecommunications, and manufacturing. Many become teachers, one in four becomes a civil servant, and about 10% of graduates go on to graduate school. The Faculty of Letters aims to provide education that not only cultivates knowledge, but also cultivates the abilities necessary for society.
Career status of 2020 Faculty of Letters graduates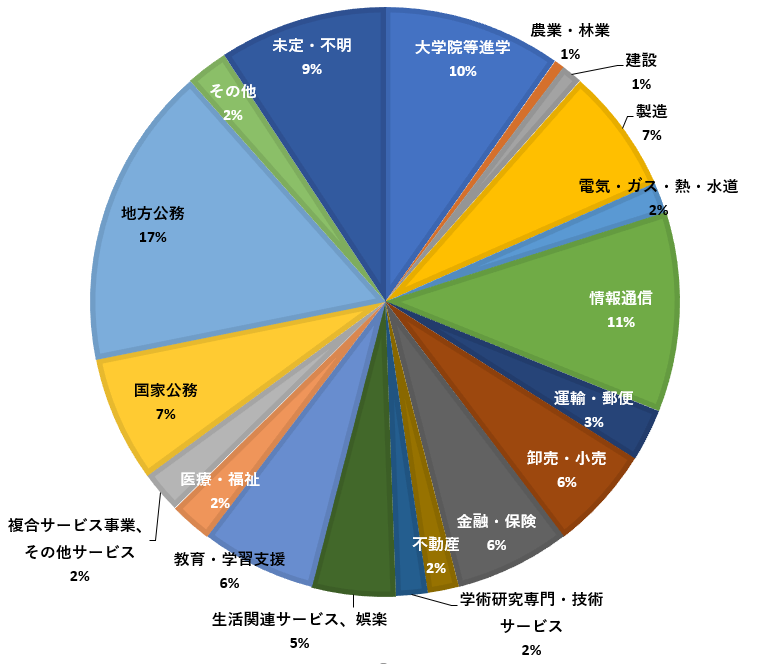 Main places of employment:
[General companies] PWC Consulting, Abeam Consulting, JR Shikoku, Okayama Broadcasting, Sanyo Broadcasting, Dentsu International Information Service, Tenmaya, Sanyo Shimbun, Dragonfly, Kaitak Holdings, Ryobi Holdings, Kinki Japan Tourist, Sanyo Marunaka, Dentsu West Japan, NTT Docomo, Nikon, Marui, CJ FOODS JAPAN, SS System, Shikoku Electric Power, Nikkei Printing, Japan Post, Tokio Marine & Nichido Fire Insurance, National Health Insurance Association, Aioi Nissay Dowa Insurance, Meiji Yasuda Life Insurance, Nomura Securities , Daiwa Securities, Iyo Bank, Bank of Tokyo-Mitsubishi UFJ, Bank of China, Sumitomo Mitsui Trust Bank, Okayama University, Tottori University, etc.
[Public employees, etc.] Personnel Agency China Secretariat, China Finance Bureau, Okayama Regional Prosecutor's Office, China Shikoku Agricultural Administration Bureau, Shikoku Economy and Industry Bureau, Chubu Regional Development Bureau, Kobe Customs, Okayama Labor Bureau, China Shikoku District Administrative Evaluation Bureau, Kyushu Forest Management Bureau, Kinki Transport Bureau, Okayama Family Court, Tottori District Court, Okayama Labor Bureau, Okayama Prefectural Police, Hyogo Labor Bureau, Hiroshima Immigration Bureau, Osaka National Tax Bureau, Japan Broadcasting Corporation, Japan Post, Okayama City Fire Department, Okayama Prefecture, Hyogo Prefecture, Yamaguchi prefecture, Tottori prefecture, Ehime prefecture, Kagawa prefecture, Kochi prefecture, Okayama city, Ihara city, Setouchi city, Yamaguchi city, Kobe city,Kurashiki city, Kurayoshi city, Tamano city, Hiroshima city, Wakayama city, Nagasaki city, Itabashi Ward and others
[Recruitment of teachers] High school teachers (Okayama prefecture, Hyogo prefecture, Shimane prefecture, Hiroshima prefecture), junior high school teachers (Okayama city, Bizen city, Kurashiki city), private high school, private secondary school
Career support
At Okayama University, employment information and employment materials for the entire university can be viewed at the Career Development Center, and faculty Members specializing in career support provide consultation on career / vocational selection and job hunting. The Faculty of Letters has also opened its own employment guidance since the first half of the third year. In addition, we are among the first to provide employment guidance, public employee examination guidance, and business research institutes that will be held throughout the university from the second half of the third year.
Career / employment consultation counter [Japanese]
Internships
An internship is an experience in which a student works in a company or government office for a certain period of time in the same way as an employee in the workplace. It will be held in the summer of the third year on a two-week basis, and students who participate will be granted credit as a free course.
Accepting internships in recent years:
Cabinet Secretariat Cabinet Personnel Bureau

Hyogo Prefectural Office

Kurashiki Kokusai Hotel Co., Ltd.

ODL Co., Ltd.
Going to graduate school
Every year, about 10 to 20 graduates of the Faculty of Letters go on to the Graduate School of Humanities and Social Sciences at Okayama University. Written exams may be exempted for those with excellent grades who are recommended by faculty members.
For more information, please contact the Graduate School Section at the details below:
Graduate School of Social and Cultural Sciences, Academic Affairs Student Group
〒700-8530 3-1-1, Tsushimanaka, Kita-ku, Okayama
Phone number: 086-251-7357